Plotagon is a free movie making software with rich customization options and a completely different way of making movies from other software.
If ever you need to be a short film director or make your own animated movie and time and money get in the way, now there's Plotagon. This short film making software will help make that dream come true.
Designed as a short animation software, Plotagon's way of working is completely different from other movie making software. Instead of creating 3D characters and adding effects to them from scratch, Plotagon allows users to direct their own movies like a real director.
Emotions of characters in Plotagon
The software offers character choices, other settings (such as classrooms or offices) and a set of preset effects. The user's task is only to arrange and arrange those elements so that they are suitable for his artistic intentions.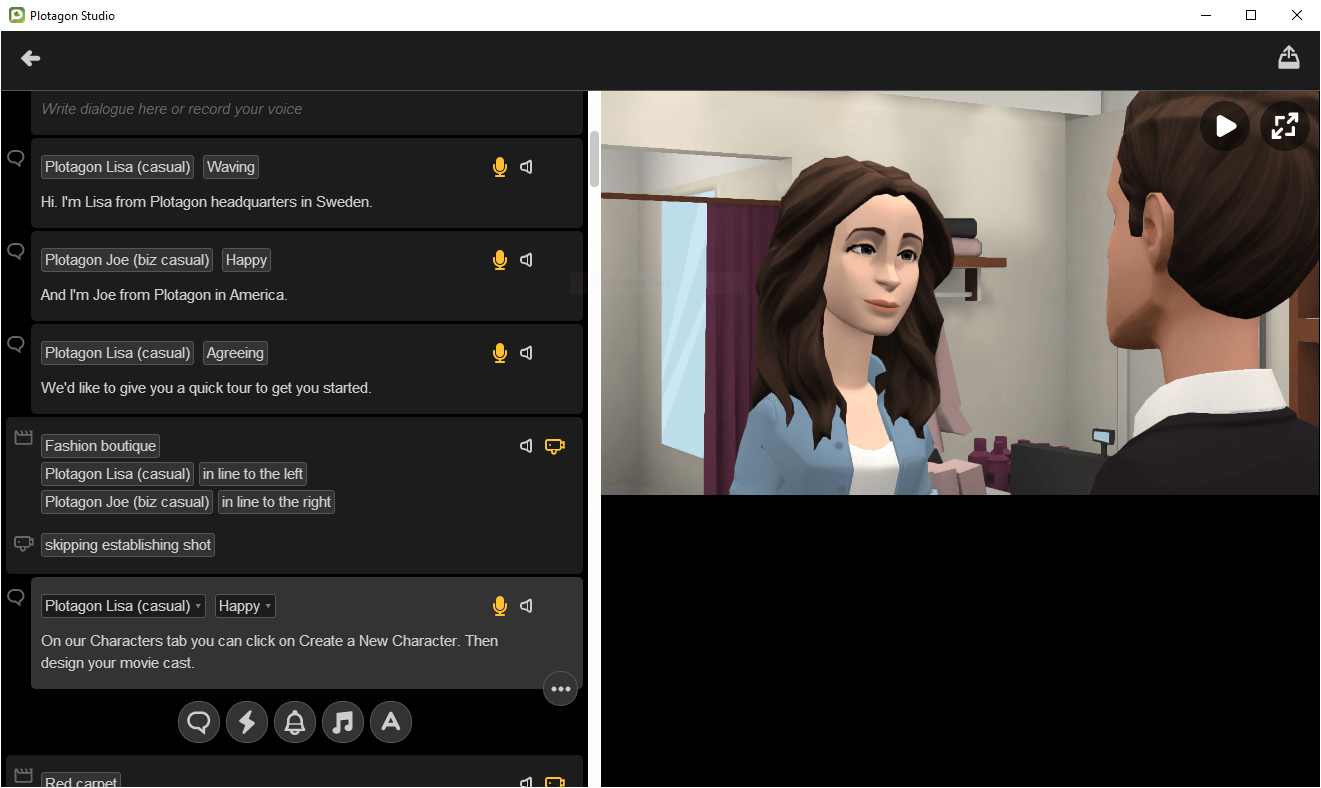 Make simple animation with Plotagon
The free version will only have a limited number of characters or ambient settings, but you'll be able to purchase the full version or download more from within the app.
The way Plotagon works is relatively simple. First select a scene, then select a character and set up a dialogue for the character. This movie script will be written by the users themselves, and the actors in Plotagon will be responsible for expressing them through the gestures and attitudes that the software pre-installed.
As soon as a new movie is created, the Plotagon interface screen will be divided into two areas. 1 is for scripts and 1 is for showing movies. In Plotagon, actors can interact with each other in certain ways, such as hugging or greeting each other. The user also has all the control over the character's voice.
Once all options have been set, the user only needs to insert add music or background sound effects and switch to another scene when satisfied.
Once done, select Publish to name your work and share it on YouTube if you want.
Plotagon is loved by many screenwriters and especially, it is also quite useful for making short commercials or documentaries to convey a story.
The only downside to the software is that it only offers a certain amount of options. Although the number of scenes or the number of characters can be purchased, the number of actions, gestures and moods of the character is limited. That means no matter how many scenes or actors there are in a movie, sometimes you can feel the movies are a bit similar. However, Plotagon is still a simple filmmaking software that is simple, easy to use and attractive to young users.
Khoa Le
.