Wolvesville, formerly Werewolf Online, is the most prominent version of the Werewolf game genre in general. A blend of role-playing style and puzzle intelligence, Wolvesville Online takes you on a thrilling and unexpected journey to find the impostor.
Wolf Online
Previously, Wolvesville only officially supported on 2 mobile platforms iOS and Android. If you want to play Wolvesville on PC, you can only choose the option via the Android emulator. But now, the developer has available Wolvesville Online Web version to play directly in the browser. All you need is just a browser with a stable connection to try the free experience!
Protect the villagers from evil forces or witches and hunt down other friends. Ghost Online Game takes you to visit a mysterious and dark world of impostors. Fight for your team and expose the fake to win!
Wolf PC is a Multiplayer game for up to 16 players. Each turn is a new team such as villagers or werewolves, fighting to see which team survives to the end. Use special abilities to uncover each player's role and convince others to join your side.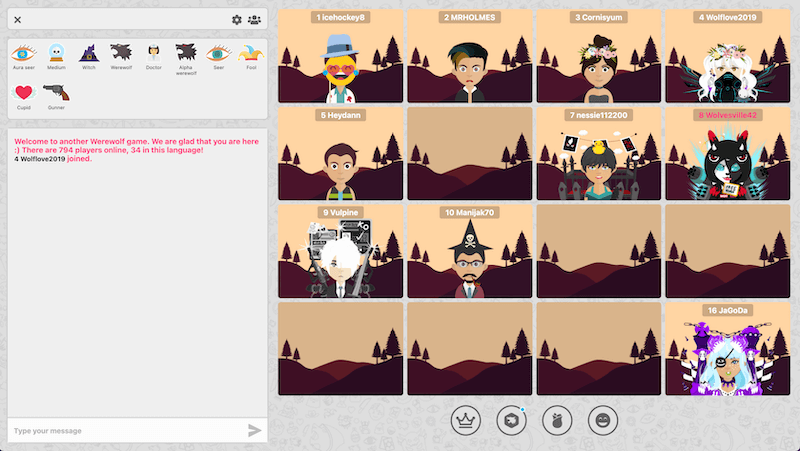 A very easy to understand game guide for rookies
Main feature of Wolvesville Online game
Play games with friends.
Join the field with real players around the world.
Create and customize your personal avatar.
Send roses to the people you love.
Join the competition in the fierce competition.
Unlock rare and limited items to make your character stand out.
Explore the Discord community for special event updates, expansion items, and more.
The game supports multiple languages, including Vietnamese
Wolvesville Online is an extremely challenging and attractive mind match game. Login to Wolvesville Online via Facebook, Google, Apple ID, Email…; Pick a name and start hunting werewolves now!
Nhat Nguyen
.